11/05 - So Planet Rock last Friday was amazing. Thanks to Zach from It Lies Within for saving the show. We had a blast. We will be entering the studio late December/ early January to record a new EP. Our last Michigan show is November 22nd at Uli's Haus of Rock in Lansing. We are currently in the Fiat Band Prix contest. If you click the link it'll take you to the Fiat FB page where you can get a free download of Change? A download counts as one vote. We apprciate all the love and support we have been getting!
Fiat Band Prix Link
10/2 - So our last Metro Detroit show for awhile is going to be October 26th at the Detroit Pub in Clinton Township. We have tickets available. If you want hit up any of the band members or our facebook page and we will make sure you get some. We also found out today that our song Change? will be getting played during the 2nd intermisson of the October 10th Red Wings Vs. Coyotes game. We are extremely happy that we were chosen. After October we have 2 shows in November and possibly one in December. After that expect a new EP from us!
9/25 - Man we had a blast in Chicago. Can't wait to make it back out that way. We have a show tonight at the Detroit Pub with Stardog Champion (Former members of Breaking Benjamin). We got some new tunes coming soon. We also got lucky enough to get on the home page of Reverbnation.com as a featured artist from now till October 1st!
9/20 - It's been a over a month and we have some good news to report. Alex Osip will be joining the band will be playing live regularly starting in October. We are really happy to have him aboard. He is a very good guitarist and his writing ability is impecable. Him and Steve have already been coming up with some awesome new stuff. Our drummer Kevin is working on two other projects. The first one is another band called Avarice. They have a few shows already booked up and will be doing more. The new stuff we have been writing is coming out really well and we can't wait to start playing it live. If your in the Chicago area come see us this Sunday at the Elbo Room. Doors are at 7:30 PM.
8/5 - Just an update to our fans we are taking the month of August off for shows. Our singer is welcoming a new son into the world and are letting him and his lady have some personal time to themselves. With that being said we are working on new material as well. SO hopefull when we start playing out again in September we will have some new tunes for you. We are booking from October through the end of the year so don't worry we are going to be making our rounds after this month!
7/16 - Well this Friday we are going to have one hell of a show in store for you fans. We will be taking off the whole month of August so this is a show you really don't want to miss. We will be sharing the stage with a group of very good bands a great friends. It'll include us, False City, New Day Revolution, After The Tide and Fall Prey. This is a very bad ass line up. Doors are at 8 at Simon's After Dark in Allen Park MI.
7/10 - Well we have been keeping busy and working on booking. A last minute add we will be playing a free show during the annual sidewalk sale. It takes place in Downtown Rochester. We will be performing around 3 oclock, right behind JC's Drums. We have added some more shows so make sure to take a look at our show schedule below.
6/27 - What a weekend last week. Rockapalooza was something else all together. First of all the first night our drummer Kevin stayed up super late getting drunk with Mushroomhead. Go to our facebook page to see pictures done by our wonderful photographer Nick Barry. As hot as it was out we had a blast playing and the turn out was amazing. Hope that we can get a chance to play again next year. This Saturday we are hitting Stars and Stipes Festival. Hope to see plenty of you guys and gals out there.

6/19 - Alright so we got our set time for Stars and Stripes go over to www.starsandstripesfest.com to see all the details. This Saturday make your way out to Jackson, Michigan to see us at Rockapalooza. We are also in the flint town throw down. If you head to http://banana1015.com/flint-town-throwdown-round-49/ go give us a vote for our song Change?
6/16 - Well what a great weekend. We didn't end up winning the Battle however it was a great experience and we got to play with some awesome people. Congrats to Chaos Rains for the win. Also a big shout out to Goodbye Blue Skies. Both bands were a pleasure to hang out with and play with. We made some friends and are going to do shows with both of them in the near future. We are still going to be playing stars and stripes so we are really happy about that. Next Saturday though come join us for Rockapalooza. Going to be a freaking blast!!!!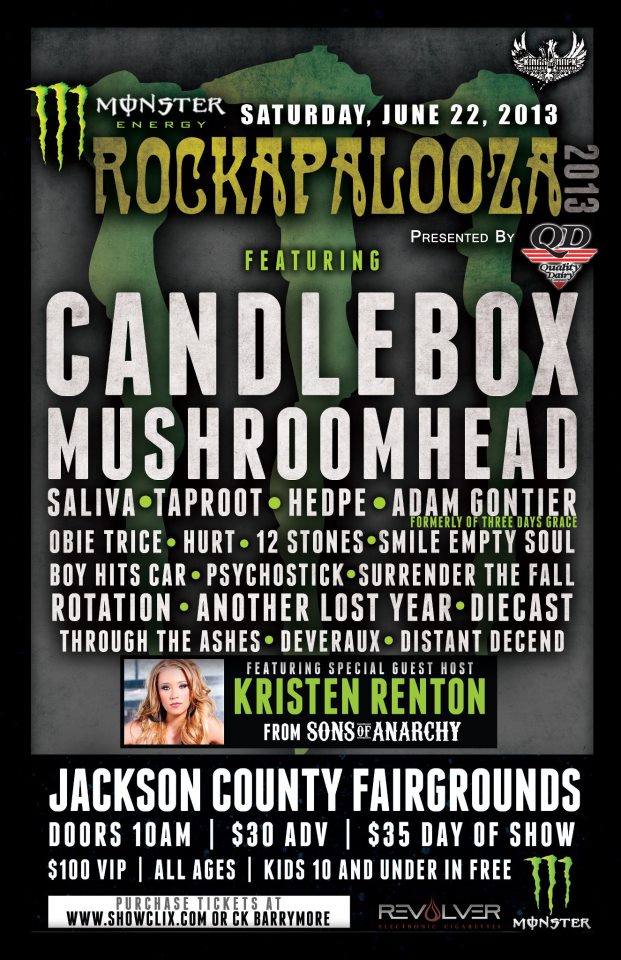 6/14 - Last night was the semi final round of the 89x Battle Of The Bands. We ended up wining and we are so greatful and stoked about it. The finals will take place at Roger's Roost in Sterling Heights tomorrow June 15th. Show starts at 9pm. We will once again be giving the first 10 people that come to see us Rockapalooza tickets. Hope to see as many of you fans as possible out there!
6/10 - So Shudder fans we will be in the 89x Battle of the Bands this Thursday so hope to see as many of you people out there as possible. In other news we will be entering the studio in August to finish up our self titled EP. So keep your eyes and ears open and make sure to come see live!
6/2 - We had anoter really fun weekend. We found out on Friday that we are going to be in the 89x Battle of the Bands. The first show will be June 13th. We are really really excited for that and hope to see a good turn out. We also were played on midnight metal on WRIF. We are really stoked about that as well. Some unfortunate new we did find out that we will not be playing the A2 Festival. It was an unfortunate occurance the stage that was "supposed" to be purchased that we were to play on never happened, however we are working on something right now to fill that date. We also learned today that the September 21st who was cancelled as well due to some issues with the city. We got together with our photographer and started story boarding our music video for "Change?". We are hoping to start shooting that very soon. All in all we are pushing forward and having a blast doing it. Hope to see everyone out for our next gig!!
5/26 - Wow Friday night was absolutely insane. Given it being Memorial Day weekend the turn out was sweet. All of the bands that played sounded great and the crowd was amazing. Want to say a very big thanks to It lies Within for having us out. Hopefully we will be hitting the machine shop again soon. We will also have some awesome pictures and video of the show coming very soon.
5-21 - This Friday we will be playing at the Machine Shop in Flint, Michigan. We are super stoked to be playing with our good friends It Lies Within. Doors are at 7 and we still have tickets available so hit us up!
5-16 - So the show last night went amazing. Had a very good turn out and got to hang out and talk to the guys from Shallow Side and Losing September. They both sounded great and were super cool dudes. We also go word today that our drummer Kevin is going to officially be endorsed by Soultone Cymbals! Go check these bands out they kick ass!!
Shallow Side! Losing September!
5/15 - Tonight we will be rocking out at the Detroit Pub in Clinton Township with our good friends Fall Prey and also have the pleasure of sharing the stage with Shallow Side and Losing September. Come on out, it'll will be a fantastic show. Doors are at 7:30 and it's an all ages show \m/
5/4 - Thanks to Janna Dimopoulos hailing out of New York. She has vlog on Youtube and has chosen to use Change? for her intro music for the month of May. You can find her on Youtube by searching Nomvegannom or follow the link below. Also we will be hitting the Machine Shop in Flint, MI on May 24th. We have tickets available so please reach out to us if you are interested. We will meet up to drop off tickets providing its within reason or mail them out. This is going to be a killer show and want to thank the guys from It Lies Within for asking us to be apart of it.